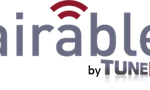 For almost 10 years the airable team at Tune In GmbH is focusing on getting internet media onto devices. We started building a powerful and flexible system plus processes to aggregate internet radio and podcasts. With these processes and tools our team keeps the airable catalogues fresh, up-to-date and growing. 
Our team consists of experienced people form the hardware, software and internet radio industry as well as trained new young talents.
A decade ago we started to build up the airable catalogues from scratch with a dedicated and passionate team. Virtually with an empty sheet of paper!
As a service provider to the industry we keep innovating and – in addition to our media catalogues – offer the airable API to device makers. A service to access music streaming and further content. That was 5 years ago and since then we added music services such as Amazon Music, Deezer, Napster, TIDAL, Qobuz, etc. to the airable.API. 
airable services are focused on aggregating content from the web and making that available on connected products in consumer electronics, telecommunications, HiFi, High End, Apps and automotive.
User interfaces, ways to navigate products and additional features remain in the responsibility and are part of the strategy of our industry clients.
Due to services we provide -catalogues and API- ,due to responsiveness, up-to-date-ness, continuous growth of sources and due to our team we have seen more and more companies implementing airable services into their beautiful new products over the past years. We love that and if helps us to grow the company, to invest, explore new ideas and raise our children.
The number of products and partners is growing steep. We love to work with them and we're passionate about all these new products and market developments. It's exiting and great fun.
Legacy Product Updates:
Over the last few years our long-term partners and clients started to use airable radio and podcasts as well for their legacy products. We don't think they really planned for that or that they like the switch (even though we are great people to work with).
To us it if obvious that an increasing number of brands are forced to take action securing the internet radio functionality on their products. That's costly to them, it needs resources and investments, but they switch away from their existing provider to other alternatives (not only us). This is not fun to anyone involved but obviously needs to be done. Hey, but from a pure business point of view: sometimes your competition is your best sales guy.
Info form the team regarding updated legacy products:
With each switch of a brand to airable we see a peak in support tickets.
All team members we work through these almost 24/7 and after some time of backlog, we are back to the known speed and responsiveness of airable. Sorry is there's a delay in answering support issues, but we'll get there.
We are a content and data provider.
We do not do user interfaces nor define product features. We give recommendations and suggestions because we love internet radio and music but in the end it's up to the brands and manufactures of the products to define user interfaces and functions. Then we're there to help.
Our work is not for free.
We need to grow the company to follow up with all the ideas and plans we have. Plus: we have families and children to feed to raise.
The Tune In GmbH – airable Team