Our expertise is rooted in extensive years of experience. We have been working in digital and online media since 1999, integrating digital media into different types of hardware and network applications.
Our team has track records in various fields, ranging from the introduction of the first MP3 consumer devices to the development of internet radio and convergent services. Our solutions are appreciated on a daily basis by millions of users worldwide.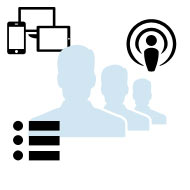 Due to the fact that we offer a wide range of services for industry partners, the core of our product portfolio – the airable services ( a powerful API and comprehensive catalogues of media content from all over the world) – reaches very different target groups. That makes us a sustainable multiplier and partner for content providers and music services, on the one hand, and a full service solution provider for industrial customers, on the other hand. End users appreciate our services due to their qualitative advantages over other (mainly automatically or algorithmically generated) content aggregation and recommendation systems.
The wide variety of our B2B and device focussed services forms the integral part of our strategy as we aim to bring together front-end users, content providers and platform operators. It is a win-win situation for all parties involved, be it because of more reliable data, steady product improvement, or simply to take more pleasure in content handling.
What we do
We aggregate and organize content.
We develop solutions to make content easily available through our airable.API.
We simplify adding online content such as music services and internet radio to connected hardware.
For content providers we offer access to various devices and platform.
What we don't do
We neither store nor rebroadcast content.
We never exert influence on content. Neither by means of cuts nor by means of content blending (e.g. with overlay advertisements etc.).
We do not allow computers to decide on quality.