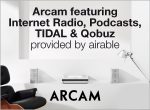 Arcam designs and builds world class Hi-Fi, Home Cinema, streaming music and personal audio products, that delight music and movie lovers the world over. CDS27, UDP411, Solo Movie & Solo Music now feature Internet Radio, Podcasts, TIDAL & Qobuz support provided by airable.
The recently released MusicLife App update now gives complete control of the media player in the Arcam network-based music system internet media and playback of content stored on your iPad, iPhone or iPod Touch.
IMPORTANT NOTE: This app only works with the Arcam equipment listed above.
Music services TIDAL and Qobuz, Internet Radio and Podcasts are added using Tune In's airable.API technology.
airable.API
airable.API made the integration of TIDAL, Qobuz, Internet Radio and Podcasts to Arcams's product range quick and efficient. The time to market was reduced and the product flexibility increased just by adding in the single airable.API.
airable.Radio, airable.Show
More than 30.000 worldwide radio stations are included in Tune In's airable.Radio catalogue. 25.000 podcasts are provided through the airable.Show catalogue.
This vast offering is sorted by region, genre, popularity, and quality. Tune In's team of editors make sure the catalogues are well maintained, kept up to date and new content is constantly and quickly added providing an unlimited source of freely accessible music, news and entertainment.
Further details about Arcam and their products.
Heiko Meertz, CEO of Tune In: "We're thrilled to see our technology integrated to Arcam's beautifully designed equipment. Online radio, podcasts, and modern music formats TIDAL and Qobuz are combined with forty years of audiophile engineering skills. The result is a truly overwhelming and simple to use music experience."
"At Arcam we believe in 'better sound for more people' and what better way to bring that to people than by adding high quality streaming services like Tidal & Qobuz? We are delighted to be working with airable on this exciting addition to our products" says Nick Clarke, Director of Engineering, Arcam.

Download the newest Arcam MusicLife version here:
About Arcam:
Arcam is based just outside the famous university city of Cambridge, and our story started the classic way: two friends with a passion for music and electronics met up while engineering students at Cambridge University, and founded Amplification and Recording Cambridge in 1976.
"Yes, we listen – we're a company of music-lovers, after all – but we also test and experiment in a scientifically rigorous manner. We like to say that 'we measure what we treasure': we know that the better the engineering benchmarks we deliver the better the results we – and our customers – hear."
Arcam's products are imagined, researched and designed in Cambridge UK.
Further Information about Arcam.
About Tune In and airable:
The way we enjoy media is changing. We decide for ourselves how, when and where we want to listen to music, radio or on demand shows. We consume any kind of media – regardless of time and place. Tune In is addressing this. People at Tune In know and love music, webradio, podcasts, audio on demand and internet media. The airable technology enables Apps and devices to meet the changing and challenging online media expectations of today's consumers. They access the airable catalogues and services via devices of exclusive consumer electronics manufacturers and apps. airable – Tune In GmbH is privately held and was founded in 2010 with offices in Germany and the United States.
Media contact:
Christoph Müllers
Tel: +49 2839-­‐5683130
airable – Tune In GmbH
Am Treppchen 2
41334 Nettetal
Germany
press@airablenow.com