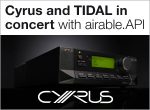 Award winning Cyrus products now come with access to the high-fidelity music service TIDAL. The well renowned streaming* products and the all in one Lyric* products gain access to TIDAL via Tune In's airable.API. Navigation of TIDAL and operation of Cyrus' premium products is a breeze with the newest version of Cadence Apps. Users simply log in to TIDAL with Cadence App and navigate, explore and play TIDAL's high-fidelity content on streaming* and Lyric* products.
The installed base of compatible products can be updated to have access to TIDAL with a firmware and App update.
Cyrus' airable and TIDAL compatible products are available worldwide through a network of specialist retailers and distributors.
airable.API
Acting as an abstraction layer, the airable.API made integration of TIDAL to Cyrus' hard- and software time saving and improved time to market. Future updates of the TIDAL and possible new compelling offerings will be managed by the powerful and flexible airable.API technology.

*Supported Products:
Stream Xa
Stream XP2
Stream X Signature
Stream XP2 Qx
Streamline2
Stream X2
All Lyric models
Further details about streamers and Lyric.
About Cyrus:
Cyrus is a multi-award winning Hi-Fi brand, which has been designing and manufacturing mid to high-end audio products in the UK for over 30 years.
Cyrus is an internationally renowned brand with a quality Hi-Fi pedigree stretching back over 30 years. All Cyrus products are built at the factory near Cambridge, England. Cyrus is recognised for developing some of the most exciting and acoustically excellent Hi-Fi products in the world. At its core, the Company understands that people listen to music because it triggers some form of emotional response, and therefore Cyrus strives to deepen and intensify that emotional experience through accurate reproduction of the sound, nuances and emotion put into the recording by the artist. Its goal is to make customers think "Wow" when they hear their favourite music through a Cyrus system.
This philosophy, supported by incredible attention to detail in design and the development of proprietary technologies, has led to Cyrus winning in excess of 50 major awards for its products over the last 10 years.
Staffed by people who love music, its mission is to build a better music experience for their customers.
Further Information:
http://www.cyrusaudio.com/about-us
About TIDAL:
TIDAL is a global, experiential, entertainment platform built for fans, directly from artists around the world. TIDAL members enjoy exclusively curated content that directly connect artists with their fans in multiple ways.
The service offers high-fidelity, CD sound quality music, high resolution video, an opportunity to discover new artists via TIDAL Discovery, and unique experiences via Tidal X.
TIDAL is available in more than 46 countries, with a more than 40 million song catalogue and nearly 90,000 high quality videos.
TIDAL offers a monthly subscription with a 30-day free trial, the Premium tier at $9.99 and the HiFi tier at $19.99.
See tidal.com for more consumer info.
About Tune In and airable:
The interconnectedness of our world is changing the way we consume media. We decide for ourselves how, when and where we want to listen to music, radio or on demand shows. We consume any kind of media – regardless of time and place. airable – Tune In knows music, webradio statio, podcasts, audio on demand and internet media. The airable technology enables Apps and devices to meet the changing and challenging online media expectations of todays consumers. Consumers access the airable catalogues and services via devices of exclusive consumer electronics manufacturers and apps. airable – Tune In GmbH is privately held and was founded in 2010 with offices in Germany and the United States.
Media contact:
Christoph Müllers, info@prmuellers.de, Tel: +49 2839-­‐5683130
airable – Tune In GmbH
Am Treppchen 2
41334 Nettetal
Germany
press@airablenow.com