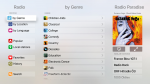 Right with the start of 4th generation Apple TV, appsolute GmbH launched it's new version of Receiver. The app integrates Tune In GmbH's airable.radio catalogue of worldwide internet radio stations.
No. 1 Music App on Apple TV
Welcomed by users, Receiver is the most used app in the music category according to Slidetoplay statistics.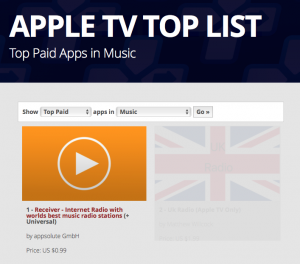 Worldwide Radio Stations
Receiver for Apple TV comes with more than 22.000 freely available internet radio stations, made available by an intuitive and compelling user interface. Stations are sorted by genre, location and language.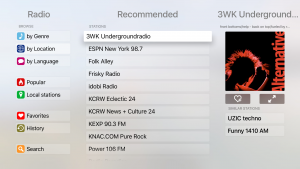 Directories of "Popular Stations" or "Local Stations" and "Search" make discovering internet radio easy. Recommendations of similar stations are listed to the playing radio station.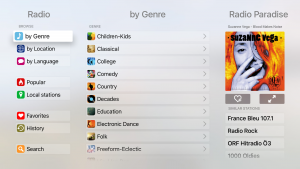 Search lists all stations related to the keyword entered.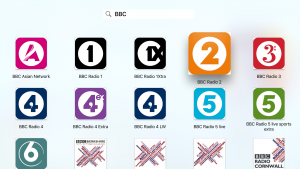 Synchronization
Bookmarked favorites are synchronized with Receiver Apps on Apple Watch, iPads or iPhones via Apple's iCould.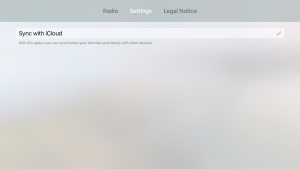 Receiver App is available for 0.99 USD / 0.99 EUR in the iTunes App Store. The update is free of charge for existing clients.
Media Contacts:
Christoph Müllers, presse@prmuellers.de, Tel: +49(0)2839—5683130
airable – Tune In GmbH
Am Treppchen 2
41334 Nettetal
Germany
press@airablenow.com
About airable:
The interconnectedness of our world is changing the way we consume media. We decide for ourselves how, when and where we want to listen radio shows or watch TV shows and consume any kind of media – regardless of time and place. airable – Tune In knows webradio stations , TV shows, podcasts, video- audio shows, and any media. The airable catalogues with its countless media sources from around the world facilitates this kind of on-demand self-service. Curators and editors suggestions, intelligent sorting, search functions and recommender systems track down radio stations, shows, content, topics and other interesting things. Consumers access the airable catalogues and services via devices of exclusive consumer electronics manufacturers and apps. airable – Tune In GmbH was founded in 2010 and has offices in Germany and US.