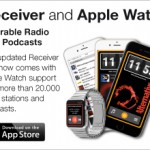 airable on Apple Watch
airable client and app specialist ́appsolute GmbH ́released a new version of its Receiver App and added new features. Receiver App Version 2.1 now turns Apple Watch into a radio with more than 22.000 worldwide radio stations out of the airable catalogue. These radio stations are sorted by genre, country, language and popularity. They can be navigated and controlled on the Apple Watch.

Appsolute Receiver App
'Receiver' – The Internet-Radio-Music-Player-Alarm-Clock-Easy-To-Use-App now is available for iPhone and iPad. App specialist appsolute GmbH and internet media specialist Tune In GmbH combined their experience, ideas and resources and created an app that's both, simple to use and full of possibilities and functions.