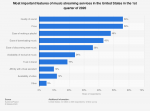 During the first period of growth in the streaming audio market the old saying of "never mind the quality feel the width" could have been true as services focused on the number of tracks and albums available to draw in more customers. However, now that users are more knowledgeable, customers' expectations are changing. For a number of years now TIDAL; Qobuz, HighResAudio and Deezer have offered High-Res options. Amazon launched Amazon Music HD in late 2019.
Today, with the emergence of new services such as the classical music streaming offering sound quality is becoming more important.
Evidence is growing of a switch in the way users are choosing services. In a report written by Amy Watson entitled 'Important features of music streaming services in the U.S. 2020' (published by Statista), she suggests that "For U.S. consumers, the most important features of music streaming services are quality of sound and price, with 56 percent of respondents citing each of these as the most critical elements they look for when listening to music online. Consumers also want convenience, with 48 percent saying that the most important feature of a service was the ease of making a playlist, 43 percent saying the same about downloading music, and 36 percent prioritising the ease of discovering new songs and artists. Less important was brand trust, video availability, or being able to effectively use a virtual assistant offered by a service."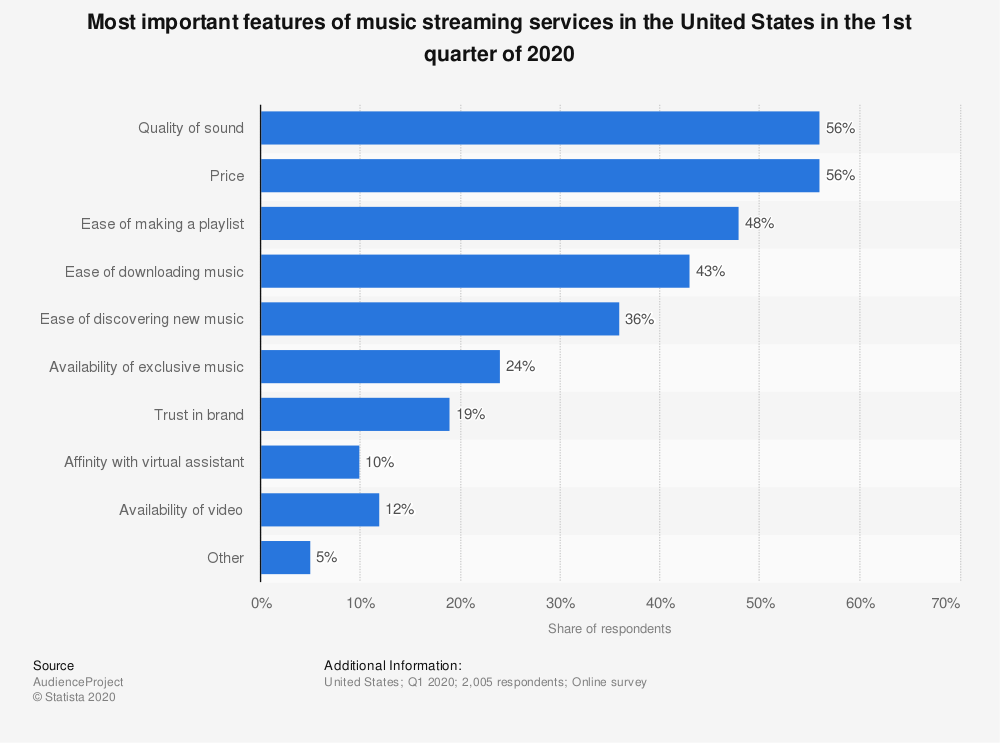 In a What Hi-Fi? article written earlier this year, Verity Burns and Becky Roberts discuss the market for high-resolution audio. They believe that it has now become an accepted format: "After years of niche positioning in the music world, "high-resolution audio" (or "hi-res audio") has finally hit the mainstream, thanks to a huge raft of support in recent years in streaming services (such as Amazon Music HD) and products (from smartphone DACs to most digital hi-fi components)." They also added: "Not ready to download hi-res files, or simply prefer streaming? Tidal and Qobuz streaming services have offered hi-res and CD-quality streams for years, putting them ahead of rivals Spotify and Apple Music. And now that Amazon has joined the party with its HD service, hi-res streaming is now firmly in the mainstream domain". Source
If the quality of the listening device is more requisite to begin to appreciate the difference between a lossless format and a lesser quality format you need the right listening device. Poor quality speakers or headphones won't allow the true depth and range of recordings to be heard. This tends to defeat the point of having a higher quality source. Manufacturers of hi-res capable audio devices are turning to airable in order to take advantage of our wide range of quality streaming service providers and internet radio stations. See a list of Manufacturers with airable.api integrated here.