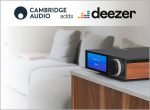 UK based HiFi innovator Cambridge Audio added access to the music streaming service Deezer.
Cambridge Audio has been at the forefront of British audio innovation for over 50 years and recently developed it's powerful StreamMagic platform for best sounding streaming audio and support of latest digital music formats. An ideal fit to the increasing demand for Deezer's High Fidelity music streaming content. Initially Deezer will be accessible on EVO 150 / 75 systems.

Deezer HiFi plan is included in the subscriptions 'Premium' and 'Family' and requires hardware capable to playing back High Fidelity streams, such as Cambridge Audio products.
Adding Deezer to Cambridge Audio products is done through the airable.API.
Heiko Meertz of airable: "We're pleased to see Deezer added to the marvelous Cambridge Audio products. Deezer is a must for certain markets and regions; a great match of quality hardware and quality content."
About Cambridge Audio:
Based in the heart of London, Cambridge Audio has pursued one simple objective since its inception in 1968: to produce audio equipment that faithfully creates a pure and natural sound. Cambridge Audio is dedicated to bringing unfiltered, unadulterated 'Great British Sound' into your home. From the iconic P40 amplifier to the award-winning Evo all-in-one music system and globally acclaimed Melomania true wireless earphones, Cambridge Audio designs each product from the ground up to deliver the purest and most faithful reproduction of your music. This approach has been instrumental in creating generations of award-winning products. Cambridge Audio products are consistently recognised for their performance, innovation and value.
Visit: www.cambridgeaudio.com
About Deezer:
Deezer is one of the largest independent music streaming platforms in the world, with more than 90 million tracks available in 180 countries, providing access to lossless HiFi audio, innovative recommendation technology and industry defining features. As the home of music, Deezer brings artists and fans together on a scalable and global platform, to unlock the full potential of music through technology. Founded in 2007 in Paris, Deezer is now a global company with a team of over 600 people based in France, Germany, UK, Brazil and the US, all brought together by their passion for music, technology and innovation. Deezer is listed on the Professional Segment of Euronext Paris (Ticker: DEEZR. ISIN: FR001400AYG6) and is also part of the newly created Euronext Tech Leaders segment, dedicated to European high-growth tech companies, and its associated index.