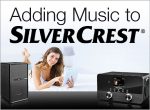 With Silvercrest SMART AUDIO devices, consumers can put together a wireless sound system just the way they want it. The well-known brand has recently added Tune In's airable.API technology to their internet radios and smart audio products.
SilverCrest Series II SMART AUDIO products now include an extended offer of music streaming services. Consumers now have access to music from Deezer, Napster, Qobuz and Tidal.
Internet Radios SIRD 14 C1 will be updated to include these new music services. The series II Internet Radio SIRD 14 C2, Multiroom Speakers SMRS 18 A1, 30 A1, 35 A1, Soundbar SMRB 40 A1 and HiFi Adapter SMRA 5.0 A1 come shipped with the newly added access to music services and is available as of February/March 2017.
More Information about Silvercrest products click here.
About Tune In and airable:
The way we enjoy media is changing. We decide for ourselves how, when and where we want to listen to music, radio or on demand shows. We consume any kind of media – regardless of time and place. Tune In is addressing this. People at Tune In know and love music, webradio, podcasts, audio on demand and internet media. The airable technology enables Apps and devices to meet the changing and challenging online media expectations of today's consumers. They access the airable catalogues and services via devices of exclusive consumer electronics manufacturers and apps. airable – Tune In GmbH is privately held and was founded in 2010 with offices in Germany and the United States.
Media contact:
Christoph Müllers, info@prmuellers.de, Tel: +49 2839-­‐5683130
airable – Tune In GmbH
Am Treppchen 2
41334 Nettetal
Germany
press@airablenow.com