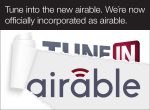 (Nov. 2019) Our 'Tune In' name and trademark is fading away. We're focussing on our 'airable' name and trademark. 'airable' is the brand of our key technologies and products. It is long established and known in the industry.
We're happy to now have our outside appearance, products, services and logos unified to the airable trademark.
Consequently, we have changed name of our corporation to airable (dropping Tune In). No worries: this is just a name change. Team members, offices, service, speed and passion for online media remains the same.

…welcome airable, goodbye Tune In.