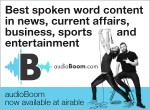 audioBoom, the world's leading spoken-word audio platform is now available at Tune In through the airable.API.
Products with airable.API integration will now gain access to the leading on-demand, streaming audio platform. audioBoom works with some of the biggest names in broadcasting across sport, entertainment and current affairs to bring their content to millions of listeners worldwide.
Top Tier Content Partners
Over 6,000 active content channels provide professional content to audioBoom, among them BBC, Cumulus, Telegraph, Guardian, CBS, Sky Sports, Premier League, Yahoo Sports, Associated Press, EMI, Reuters, CNBC, Universal and many more.
audioBoom has nearly five million registered users, resulting in 35m listens a month, mainly though the audioBoom iOS, Android, Amazon Apps, embedabble player, in-car distribution and iTunes.

Spoken-Word Content on Consumer Electronics and Hi-Fi Products
The airable.API is the door into many different products of consumer electronics manufacturers and Hi-Fi brands. "Making the audioBoom portfolio available on consumer electronic devices and Hi-Fi systems is a challenge. We're excited to partner with the Tune In team and make quality spoken word content available to numerous devices that have the airable.API integrated." states Arun Paul, Head of Partner Technology at audioBoom "The integration of our offering to the airable.API went quick and very smooth".
Heiko Meertz, CEO of Tune In: "The airable.API is very flexible and easy to use for both, manufacturers and content providers. Our teams in Germany and US guided audioBoom though the quick and easy integration. We're eager to see their content on the devices of your manufacturing partners."
About Audioboom:
Audioboom is the leading spoken-word audio platform for hosting, distributing and monetising content. Audioboom works with broadcasters, content creators and podcasters around the world – including Cumulus, the BBC, the Telegraph, Sky Sports, the Premier League, Associated Press, The Sun, NBC Sports Radio, Undisclosed, Global and Bauer – hosting almost 7,000 content channels.
Audioboom's hosting and distribution platform allows partners to embed, share via social channels and re-syndicate their content. Audioboom content receives more than 35m listens per month, and growing. Additionally, Audioboom works with its partners to monetise their audio via live in-reads, the dynamic insertion of pre and post roll audio adverts, and video ads.
Further Information:

www.audioboom.com/about/us
www.airablenow.com
Media contacts:
airable – Tune In GmbH
Am Treppchen 2
41334 Nettetal
Germany
press@airablenow.com
Christoph Müllers
info@prmuellers.de
 Tel: +49 2839-­5683130
About airable:
The interconnectedness of our world is changing the way we consume media. We decide for ourselves how, when and where we want to listen radio shows or watch TV shows and consume any kind of media – regardless of time and place. airable – Tune In knows webradio stations , TV shows, podcasts, video- audio shows, and any media. The airable catalogues with its countless media sources from around the world facilitates this kind of on-demand self-service. Curators and editors suggestions, intelligent sorting, search functions and recommender systems track down radio stations, shows, content, topics and other interesting things. Consumers access the airable catalogues and services via devices of exclusive consumer electronics manufacturers and apps. airable – Tune In GmbH was founded in 2010 and has offices in Germany and US.