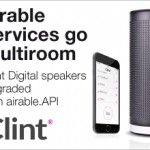 Danish audio product maker Clint Digital creates well-designed and well-engineered audio products. The award winning stylish wireless MultiRoom speakers provide soft, pleasant and detailed sound by using wireless music streaming technologies. Flexibility via the built-in battery and MultiRoom functionality in the Wi-Fi version makes them an enjoyable companion.
The updated versions of Asgard Freya and Odin speakers and the companion Asgard App now include the airable internet media technology.

Best in Class Radio & Podcast Catalogue.
The airable services consist of the airable.API software interface, airable.radio catalogue and airable.podcast catalogue.
airable makes 25.000 worldwide radio stations, 24.000 podcast and music services available for Clint products. Clint engineers just had to implement one API interface to make these compelling catalogues available. "Implementation of the airable API went really well and we adjusted the user interface and presentation of internet media according to our customers' needs", says René Larsen, COO of Clint Digital ApS "The airable API enables us to adjust and add internet radio station, podcasts and music services as they are demanded by market needs."
Availability:
Clint Digital is part of EET Group. The group makes Clint design audio products available in major retail and HiFi stores all over Europe.
Heiko Meertz, CEO of airable – Tune In: "We're delighted to see our airable internet radio and podcast catalogues in these high quality products all over Europe. We at Tune In believe that internet radio and music services are a must for connected MultiRoom audio products. Consumers expect easy access to radio or subscription based music services from any source and play conveniently in any room of their home."
Product Pictures:
Asgard App from Clint
---
Further Information and Media contacts:
www.clintdigital.com
www.airablenow.com
Christoph Müllers
+49 2839-­‐5683130
airable – Tune In GmbH
---
About Clint Digital:
The Clint brand was founded in 2008. Behind the brand is a group of well-established entrepreneurs in the field of digital audio and digital video with roots back to 1994. The founders of Clint Digital were among the pioneers for digital radio products (DAB/DAB+/Internet radios etc.) in Northern Europe.
The base and key foundation of Clint Digital is to provide well-designed and well-engineered products. Clint Digital takes pride in being an innovative and forward thinking company. The product range is mainly developed and designed in Denmark and is strongly focused on design and functionality.
Clint Digital thrives to create products including state-of-the-art technology, sophisticated design and user-friendliness for everyone.
About airable:
The interconnectedness of our world is changing the way we consume media. We decide for ourselves how, when and where we want to listen radio shows or watch TV shows and consume any kind of media – regardless of time and place. airable – Tune In knows webradio stations , TV shows, podcasts, video- audio shows, and any media. The airable catalogues with its countless media sources from around the world facilitates this kind of on-demand self-service. Curators and editors suggestions, intelligent sorting, search functions and recommender systems track down radio stations, shows, content, topics and other interesting things. Consumers access the airable catalogues and services via devices of exclusive consumer electronics manufacturers and apps. airable – Tune In GmbH was founded in 2010 and has offices in Germany and US.